Download the latest research on Caregiving in the workplace

Caring for you, while you care for family
*Caregiver Family Leave (CFL) protects you against wage loss by providing you with up to 80% income replacement or the benefit maximum when duty calls for family caregiving. While on an employer-approved unpaid leave, CFL offers you income replacement coverage for up to 10 weeks (continuous or intermittent) that you can purchase based on your personal needs and budget.
FMLA leave requests to provide caregiving to immediate family members, which includes your parents, children, spouses, and domestic partners who have a serious health condition requiring your presence for caregiving services.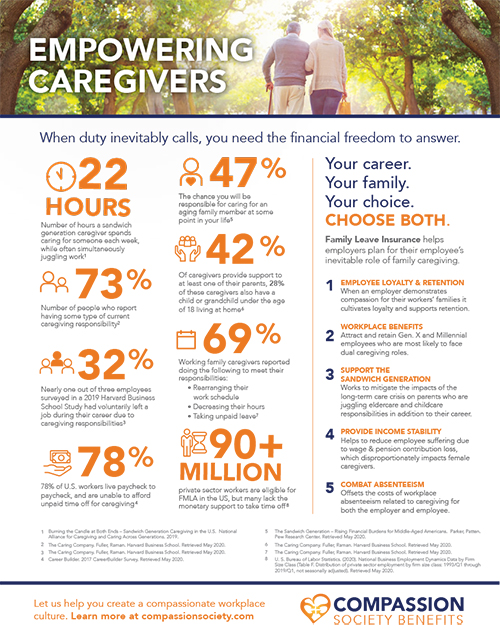 Be secure by helping to stay current with household
bills while being compassionate and providing care
for family
Be balanced and help to ensure personal wellness
by reducing stress when consumed with daily
caregiving obligations
Companies with 50 or more employees are eligible for this group insurance product. Employer-paid or voluntary options are available.
---
Take action today.
Inquire through your HR Department.

Copyright ©2022 all rights reserved Compassion Society Benefits.